Getting a master's degree is not easy, nor when it comes to choosing the right one. Nevertheless, it has its own fair share of benefits for professionals, such as more job opportunities. It may be overwhelming and confusing to make such decisions, whether you should pursue taking a master's in data analytics or an MBA in Singapore.
Taking a master's degree is a choice if you are a professional who wants to increase your potential and earn more opportunities to cultivate your career experience. But how do you exactly determine which program is right for you? Here are some tips you can follow to pick an ideal program to suit your long-term goal and career: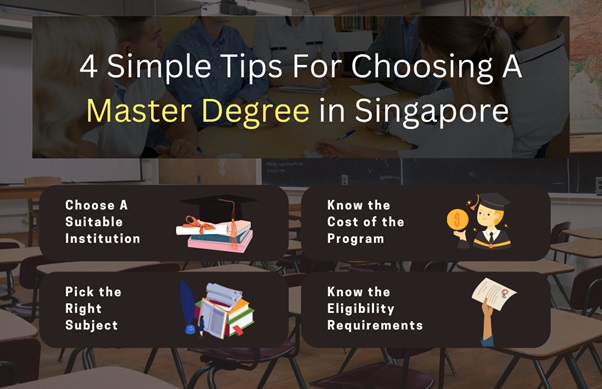 Choose A Suitable Institution
A decision to take when choosing a master's degree program is to pick the most suitable academic institution that offers a wide-degree of programs. Whether you're planning for a full or part time MBA in Singapore (or other programs), pick an excellent university to have a number of connections in the industry and is highly respectable among students taking a degree. Ensure that their graduate students are qualified and able to establish an experience in their field.
Know the Cost of the Program
Another crucial factor to consider for many students who are planning to take a master's degree is to determine their financial capability. There is a wide range of programs you can find out there in a single university. Some can cater for students who can pay for high-price, while others can be more affordable in fees. Nevertheless, there are options for those who cannot afford them, such as scholarships. However, you must be eligible for the requirements.
Pick the Right Subject
The first thing you have to do, whether you're choosing engineering, social sciences, or masters in data analytics in Singapore, is to choose the right subject. What you have to think about is your passion. Think of what subjects make you excited or stirs your curiosity and capture your interest. Taking programs can be challenging and stressful, so you might want to invest your time in something that will make each challenge 'meaningful' to you.
Know the Eligibility Requirements
One last thing you have to know is that some degrees have eligibility requirements. You might also need to have a bachelor's degree background in specific subjects before you become eligible for the program. Having a foundation course beforehand in a subject area you wish to take might give you eligibility. Otherwise, you might want to add time to your program duration.
Are you looking for a master degree in Singapore? Visit Amity Global Institute for more info.