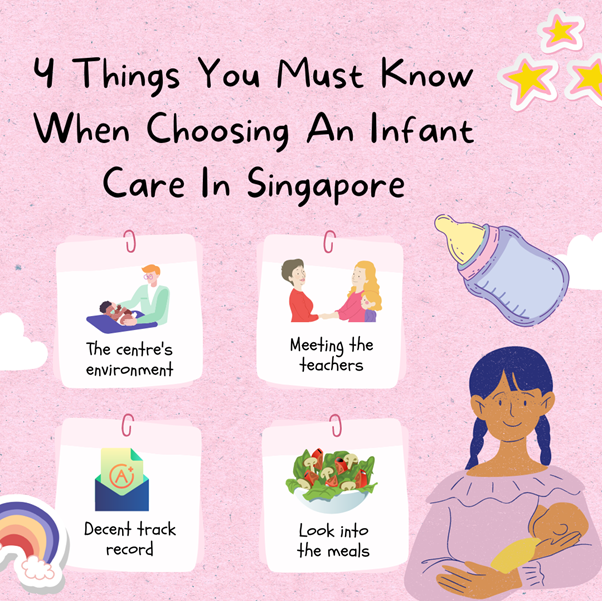 Your little infant is your little bundle of hope, and every new parent would feel their precious ones as the best in their world. New parents would invest in anything to see their little ones grow up healthy, happy and successful in the future. It is why choosing the best infant care in Singapore is a priority for responsible parenting.
As your infant develops and grows, an effective childcare programme and guidance will play a vital role in establishing a solid foundation in a child's social, emotional and intellectual departments. If you are on the lookout for an ideal infant care centre, here are some things you should look out for:
The centre's environment
If you are searching for the best or decent infant care in Singapore that you can afford, it's best that you pay the centre a visit yourself. As you visit, seeing everything first-hand will help you make a decision for a suitable environment where your child will be exposed on a daily/routine basis. You can make an assessment if the centre's facilities are secure, hygienic, stimulating and safe. After all, every parent must be confident about where they will entrust their child.
Meeting the teachers
Another importance for parents to consider is the teachers that will handle their kids. An ideal infant care centre will have a pool of well-trained professional teachers looking after children. All teachers must possess an advanced certification specialising in infant care. If they don't have one, then consider re-evaluating your option. A teacher will serve as a role model for children to learn from, so it's to undergo a stricter screening process.
Decent track record
A credible infant centre in Singapore will have a decent track record. Also, see to it that they are legally licensed and registered to operate. Consider looking into these aspects since it will ensure your child's safety when they will learn in a legally and well-regulated environment. Take time to research the infant centre and see how long the centre operates through the years and read the feedback or reviews of parents.
Look into the meals
A healthy body makes it more conducive for children to process their thinking and learn new things. Nutrition plays a vital role in an early stage of development, which is why you must ensure that you are choosing an infant centre that serves healthy foods that are suitable for your child or toddler.
If you are looking for an infant care subsidy, visit My First Skool for more info.