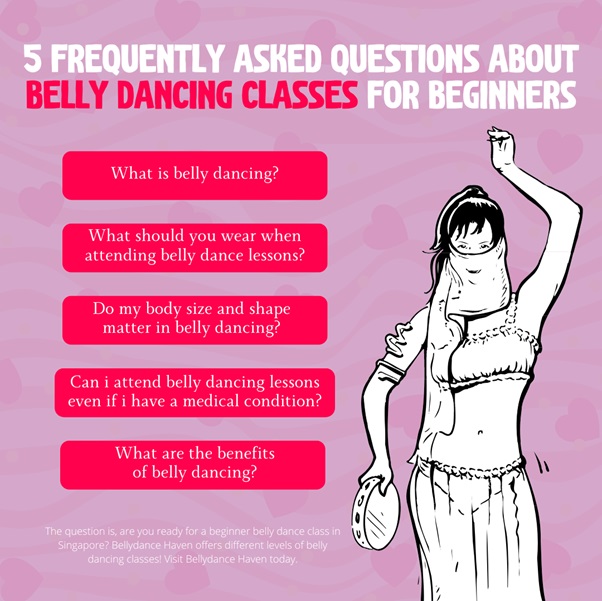 Belly dancing reached the peak of its popularity in the 1960s and 1970s. Even with the advent of other dances, such as Zumba, breakdancing, and even TikTok dances decades later, belly dancing still remains relevant in the dancing scene. There are still belly dancing classes.
This article will answer all your frequently asked questions about belly dance and belly dance classes in Singapore:
FAQ #1: WHAT IS BELLY DANCING?
Belly dancing is a type of dancing from the Middle East that is notable for fluid hip and torso movements.
FAQ #2: WHAT SHOULD YOU WEAR WHEN ATTENDING BELLY DANCE LESSONS?
Due to the mainstream media's portrayal of belly dance, many people think of skimpy two-piece clothing and a belly ring. It all boils down to the dancer's preference.
For training, the ideal clothes are lightweight tops, such as a regular tee or a crop top. You can wear tights, leggings, harem pants, and dance skirts.
When it comes to footwear, you can wear practice shoes, ballet shoes, socks, or go barefoot!
FAQ #3: DO MY BODY SIZE AND SHAPE MATTER IN BELLY DANCING?
Believe it or not, belly dancing is one of the most inclusive dances to body shape and size. They don't matter when joining belly dance lessons.
Belly dancing, as a form of exercise, can make you slimmer. Nevertheless, belly dancing is all about loving your own skin and promoting a positive body image. You can be an excellent belly dancer, big or slim.
FAQ #4: CAN I ATTEND BELLY DANCING LESSONS EVEN IF I HAVE A MEDICAL CONDITION?
Belly dance is a form of low-impact exercise, meaning it is gentle and is not really physically demanding. Nevertheless, it is still advisable for people to consult their doctor first before attending a beginner belly dance class. It is a preventive measure in case the activity has an adverse effect on the condition.
If you are sick and can't attend the class, some belly dancing schools email their students the moves they can practise at home. Some even have online classes!
FAQ #5: WHAT ARE THE BENEFITS OF BELLY DANCING?
Since it is a form of exercise, you can burn calories, tone your abdominal muscles, and keep the blood circulating when belly dancing. The movements also help improve your flexibility and strength. You can also socialise and connect to people in the class and build relationships!
The question is, are you ready for a beginner belly dance class in Singapore? Bellydance Haven offers different levels of belly dancing classes! Visit Bellydance Haven today.